Submitted by

mromanose

on Thu, 08/01/2019 - 19:20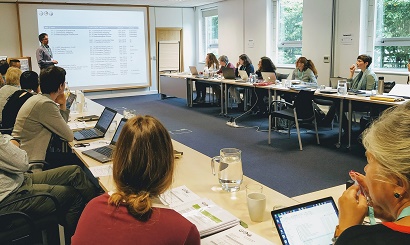 On June 12-13 the ACT Consortium gathered in York (United Kingdom) for the third Project Meeting. The gathering was hosted by Advance HE and assembled 28 project members.
During the two-day sessions, important aspects regarding the development of methods and tools for Communities of Practice (CoP) were discussed, such as the ACT Co-creation Toolkit that introduces a variety of participatory and visual resources for CoPs, the Gender Equality Audit and Monitoring tool based in the ASSET survey, and the beta version of the ACT Knowledge Sharing Hub, technical infrastructure that facilitates online presence and collaboration to each of the supported Communities of Practice (CoP).
The meeting also focused on the revision of the Community Mapping survey results and the proposal of methodology for evaluating the development and learning outcomes of CoPs. On the other hand, the ACT Seed partners presented the current state of play of the Communities of Practice which recruitment and configuration have been settled up drawing upon the 1st ACT Synergy Conference and the Community Mapping survey.
Other important tasks that were discussed are the constitution of the three thematic groups that will facilitate knowledge exchange and coordinate actions across the individual CoPs in the three gender equality ERA priorities, and the plan for producing thematic videos with educational and awareness-raising content on the advancement of gender equality in R&I and HE. The content and scope of the one-day workshops that each Community of Practice will organise in 2020 were also discussed. Finally, the Consortium revised and brainstormed on the campaigns and activities planned in the dissemination and community engagement strategy. 
The third Project Meeting took place right after the training sessions of the CoP facilitators designated to coordinate CoP support, which were organised by Loughborough University (LoU) and Karolinska Institutet (KI) on 10-11 June also in York (UK).
Keep updated on the final configuration of the ACT Communities of Practice and opportunities to join our upcoming events by visiting this website and following us on Twitter.
Pictures of the 3rd Project Meeting in York (UK)